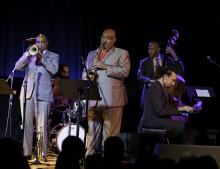 The Jazz Bakery is the center of jazz in Southern California -L.A. Times
The Jazz Bakery is "the most prestigious jazz space in Los Angeles" — a serious, no-frills, seven-nights-a-week nonprofit listening room of international renown, where everybody who's anybody has played; where iconic musicians turn up as regularly in the audience as on the bandstand; where just ascending the stage is a sure sign that you've made it into the music's highest ranks." (LA Weekly, The House that Ruth Built)
Conceived and founded in 1992 by jazz vocalist/educator Ruth Price, the Jazz Bakery has achieved international acclaim through her uncompromising vision. As artistic director, Price's vision includes an audience-friendly performance space with theater seating unspoiled by noisy nightclub intrusions. It's a place where the sound is the highest fidelity, the lighting is beautiful, the piano is well-maintained, and every seat is the best in the house.
Like all non-profits, the Jazz Bakery has a mission… to cultivate a new generation of jazz fans who will appreciate, preserve and grow a unique American legacy.  Meeting the mission of the Jazz Bakery takes the dedication and good efforts of a lot people behind the scenes. We couldn't do it without our great core of volunteers, who cover the box office, usher shows, and provide transportation and assistance to our visiting artists. Our devoted Board of Directors are responsible for the strategic growth of our organization, insuring the fulfillment of our mission.
The Jazz Bakery Volunteer Core
The Jazz Bakery always needs great volunteers. Hey, we're a non-profit - just about everyone involved is a volunteer, donating their time and skills. We do it because we love the music! If you have any special skills you'd like to share with us, we'd love to hear from you. Send an email to volunteer@jazzbakery.org. We can't promise that we'll get back to you right away, but we certainly appreciate your offer for assistance.
Contact Information
The Jazz Bakery, A Non-Profit Organization

Business Office

1836 Benedict Canyon Drive
Beverly Hills, CA 90210-2007

  

reservation line: 310-271-9039

fax: 310-275-9931

email: ruth@jazzbakery.org