Sun, Oct 15, 2023 - 7:00 pm
Buy Tickets
Information Line: (310) 271-9039
Direct Ticket Line: (800) 838-3006 ext. 1
Moss Theater
New Roads School at The Herb Alpert Educational Village
3131 Olympic Blvd.
Parking:
Free parking onsite. Between Centinela and Stewart St. Enter at New-Roads-School sign. Theater is immediately on right.
Directions
Upcoming Events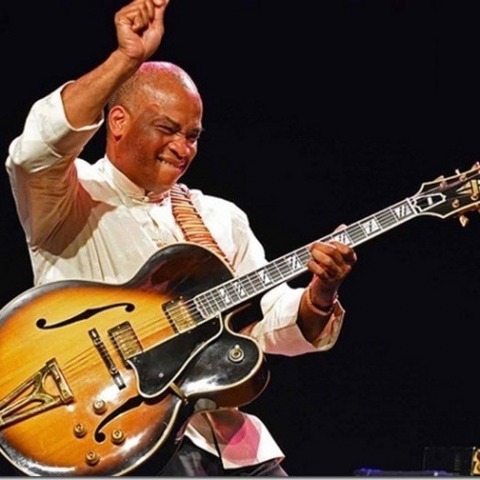 Russell Malone Quartet Live at The Moss Theater!
Born in 1963 in Albany, Georgia, virtuoso guitarist Russell Malone possesses a remarkable range, spanning from gritty blues to lush ballads. His journey into music began in church, surrounded by an array of instruments, and he was introduced to the world of guitar through a toy four-string given to him by his mother. His fascination with musicians like B.B. King, Chet Atkins, George Benson, and more ignited his passion for blues and jazz. Russell's self-taught style evolved as he played along with recordings, absorbing influences from artists like Freddy Cole and Billy Taylor.
Russell Malone's illustrious career is a testament to his exceptional talent. He toured internationally with Diana Krall, earning acclaim for his role as her right-hand musician. His collaborations include recording with Benny Green, joining Jimmy Smith's ensemble from 1988 to 1990, and becoming a vital part of Harry Connick Jr.'s orchestra from 1990 to 1994. He's graced festivals, clubs, and concert halls worldwide, leaving his mark on recordings with a diverse array of artists. Russell's debut as a leader came in 1992, followed by a string of notable albums on MaxJazz and HighNote Records, including "Heartstrings" and "Love Looks Good on You." His latest release, "Time for the Dancers" (HighNote, 2017), showcases his artistry alongside esteemed musicians, solidifying his status as a true guitar legend.
Featuring:
Russell Malone

Guitar

Bill Cunliffe

Piano

Mike Gurrola

Bass

Roy McCurdy

Drums